線上講座訊息:【TSU】 -Invitation to Mini-Cubesat Webinar No.2 on3/11
Dear all,
We are pleased to invite you to the Mini-Cubesat Webinar No.2, which will be held on 3/11. Further details are shown below:
Topic: Mini-Cubesat Webinar No.2
Time: Mar. 11, 09:00 am Taipei Time (UTC+8)
Speakers:
09:00 am Dr. James Mason (University of Colorado, USA)
10:00 am Prof. Mengu Cho (Kyushu Institute of Technology, Japan)
11:00 am Prof. Sheng-Long Kao (NTOU, Taiwan)
15:00 pm Prof. Esa Kallio (Aalto University, Finland)
16:00 pm Dr. Antti Kestilä (Finnish Meteorological Institute, Finland)
To join the meeting, please register in the following link:
Please note that the time schedule is given in local time in Taiwan.
If you have any questions, please just let us know.
Looking forward to seeing you on air.
TSU team
TSU (Taiwan Space Union)
(03) 4227151 ext 65955
https://twspaceunion.org/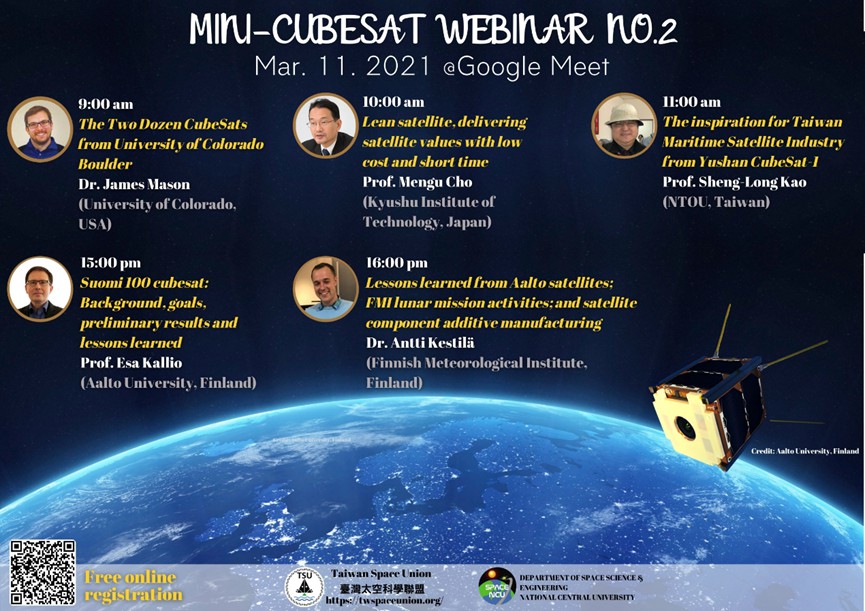 t 65955